Schedule Updated 4/7/2017

Dear Friends,
It has been a long time since I have updated this newsletter. My whole life has been changed with the trials we have been going through..... read more
---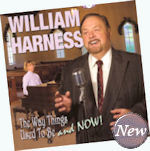 The Way Things Used
to Be, and Now!
The Love Of God
I'd Rather Have Jesus
Let Me Touch Him
The Stranger Of Galilee


Ten Thousand Angels
It's Real
The Song Of A Soul Set Free
Springs Of Living Water
Ship Ahoy
Holy, Holy
Is What The Angels Sing


Follow Me
No One Ever Cared For Me Like Jesus
My Song
There Is No Greater Love
Bow The Knee
No More Night


The Anchor Holds
Blessed Assurance
WILLIAM HARNESS is a singer with unusual talent. He has a four octave range which allows him to sing from low bass to high tenor. William has a love for many different styles of music including western, southern, contemporary gospel and classical religious. Mr. Harness spent many years in the opera, but always felt his calling was to be a gospel singer. Now he travels the world to reach people for his Savior. He and his wife, Marie, are currently celebrating their 30th anniversary of the ministry!
William's concerts are interlaced with drama and testimony, capturing the audience's attention from the very first song! His extraordinary talent reaches beyond age barriers and communicates his love for God and the hope that we all have in Christ.
Browse this site to become acquainted with his schedule and recordings as well as the various ministries in which he and Marie are involved.
Read Bill's article on church music problems.....
Read about our India and Latvia Ministry trips....